Troubleshooting Common Microsoft Windows Problems
Reader Question:
"Hi Wally, I have been using Windows 7 for the past few years. It is pretty reliable but sometimes there are errors and problems that are bearable but i'd rather I did not have to deal with them. Where can I find help on some common Microsoft Windows 7 related problems."   - Katelyn L., USA
Before addressing any computer issue, I always recommend scanning and repairing any underlying problems affecting your PC health and performance:
Step 1 : Download PC Repair & Optimizer Tool (WinThruster for Win 10, 8, 7, Vista, XP and 2000 – Microsoft Gold Certified).
Step 2 : Click "Start Scan" to find Windows registry issues that could be causing PC problems.
Step 3 : Click "Repair All" to fix all issues.
Setting up weekly (or daily) automatic scans will help prevent system problems and keep your PC running fast and trouble-free.
Wally's Answer: Microsoft Windows 7 is a very reliable and stable operating system but its not perfect. There are some common problems that you may come across in daily usage. Some of these errors are easy to fix, and can make your experience using Windows a lot better. Here are solutions to some common Microsoft Windows related problems, and some links to get additional help if needed.
"not responding" Error
This is a very common problem. The Window of a program freezes or stops working, and the title bar of the program displays the not responding error. Just close and then start the program again to solve this problem. If it takes too long to close then you should use the Task Manager.
Click the Start Button > type Task Manager and press Enter or right-click the taskbar and click Start Task manager.

Click the Applications tab and look for the program, click the program, and then click the End Task button.
If its not there, then click the Processes tab and look for it there. Select the name of the process and click the End Process button.
Try running the program again. If it still encounters the same error then try reinstalling it, contacting product support, or looking for a different software.
The Disk Cleanup Utility
The Disk Cleanup utility is used to delete temporary files that accumulate on the hard drive. Accumulation of junk files can cause low disk space errors, and cause your computer to slow down.
Click the Start button > All Programs > Accessories > System Tools > Disk Cleanup > Select a Drive > click OK It should scan the drive for temporary files and then show you a list of files to delete. At this point you are probably going to want to select all boxes, and click OK.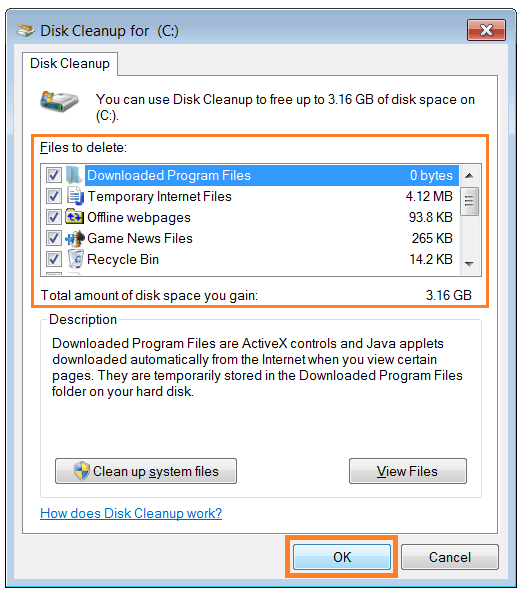 Low virtual memory
Virtual memory is basically a file on your computer's hard drive which acts like the computer's RAM. If the computer has to run a lot of programs, it uses virtual memory to compensate for the unavailability of free RAM. If virtual memory starts to run out, you will see the 'Low virtual memory' error. If this happens too often then consider adding more RAM to the computer. You can also increase the size of the paging file.
Increasing size of Paging file in Microsoft Windows 7
In Windows 7 press the Start Button > right-click Computer > Click Properties

On the right side click the Advanced System Settings link

In the System Properties dialog-box, click the Advanced tab. Under Performance, click the Settings button

In the Performance Options dialog-box, click the Advanced tab > under Virtual Memory click the Change button.

Uncheck Automatically manage paging file size for all drives > click Custom > enter a number for Initial size and Maximum size > click OK

Look at the Recommended and Currently Allocated paging file size for all drives to get a good idea of how much you should allocate.
'The blue screen of death' error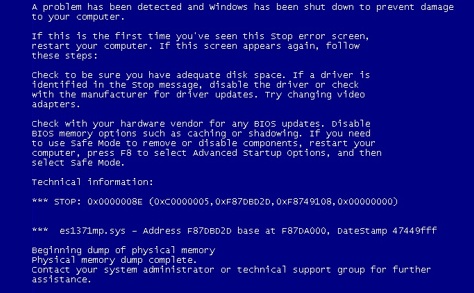 The blue screen of death appears when Windows crashes. A static blue screen with white text appears and then the computer restarts. This is usually caused by a hardware failure, driver problems, or missing system files. Disable automatic reboot after the BSoD error, and write down the error code to search for it.
Getting Microsoft Technical Support

Microsoft provides technical support for its various products. These products include Microsoft Windows, Internet Explorer, Windows mobile, Developer tools, Microsoft cloud, and Skype.
Free Technical Support: The Microsoft support knowledge-base is a great resource. They have simple and easy to follow articles on a variety of Windows errors and issues.
Paid Technical Support: Paid resources are used by professionals in charge of businesses, people who deploy and manage a lot of computers, and software developers.
Frequently asked questions
Some frequently asked questions about Microsoft Windows are answered in the very useful FAQ section of the Windows support site. It answers many common questions, all in one place.
I Hope You Liked This Blog Article! If You Need Additional Support on This Issue Then Please Don't Hesitate To Contact Me On Facebook.
Is Your PC Healthy?
I always recommend to my readers to regularly use a trusted registry cleaner and optimizer such as WinThruster or CCleaner. Many problems that you encounter can be attributed to a corrupt and bloated registry.
Happy Computing!


Wally's Answer Rating
Quick Solution (How fast can you do it?)
Easy Solution (How easy is it?)
Beginner-Friendly (Recommended for beginners?)
Summary: Every Windows Wally blog post is evaluated on these three criteria. The average of all three elements determines an "Overall Rating" for each blog post.