How To Make Your Computer Faster
Reader Question:
"Hi Wally, I bought my computer a year ago. It came with Windows 10. It was working fine for most of my stuff but recently it has gotten really slow. I'm still using pretty much the same software. What can I do except reinstallng Windows to fix this. Please suggest something simple, i'm not very savvy with this stuff." – Allison A., Australia
Before addressing any computer issue, I always recommend scanning and repairing any underlying problems affecting your PC health and performance:
Step 1

: Download PC Repair & Optimizer Tool (WinThruster for Win 10, 8, 7, Vista, XP and 2000 – Microsoft Gold Certified).

Step 2

: Click "Start Scan" to find Windows registry issues that could be causing PC problems.

Step 3

: Click "Repair All" to fix all issues.
Setting up weekly (or daily) automatic scans will help prevent system problems and keep your PC running fast and trouble-free.
Wally's Answer: Many people wonder why their computer ends up getting slow over time. Today, our computers are faster and more reliable than ever. However, expectations and usage have also changed over time. Not maintaining the software side of things can make it run a lot slower.
Why Are Programs Opening Slow Now?
When you install software on a new computer, it runs smoothly and gives you a really good performance. But, it gets slower as you keep using it. This is because of accumulating temp files and startup software. Another reason is version upgrades. As software gets more capable, it also gets resource hungry. Modern programs and operating systems require more RAM, hard disk space, and processing power.
What Can I Do About This?
One thing you can do is buy more RAM, upgrade the hard drive, upgrade the processor, etc. OR, you can better manage the software side of things. The truth is that a lot of computers are running slow because of software related issues.
Here are some things you can do to improve your computer's performance without buying any new hardware.
Pre Installed Software
Most people buy desktop and laptop computers off-the-shelf. Usually, these computers come with a lot of pre-installed software that you don't necessarily need. Some of it expires after a set amount of time, but it doesn't uninstall.
You have to remove it yourself. You can use WinThruster to completely uninstall software from your computer. You can also uninstall the software manually from Programs and Features.
In Windows 8 and Windows 10, press Windows Key+X to see a pop-up menu. Click Programs and Features from the list.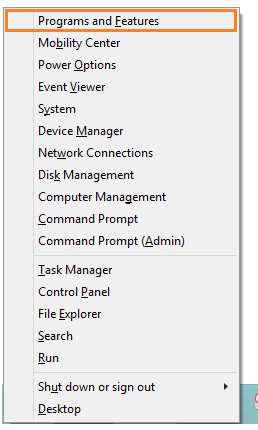 You can uninstall the software from the Programs and Features window.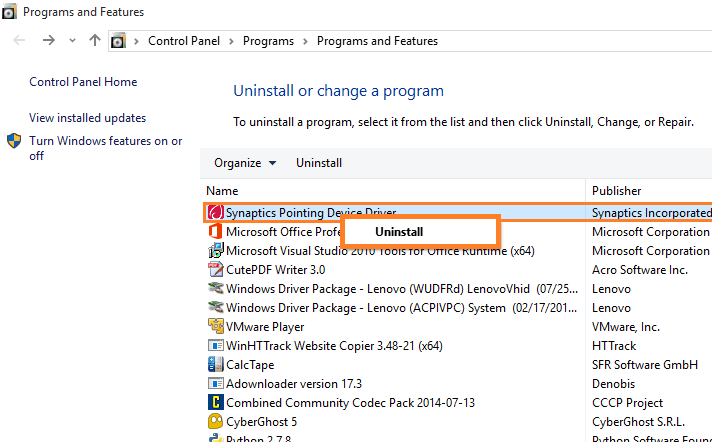 Startup Programs
Open the Task Manager by using keyboard key combination Windows Key+X and click Task Manager from the list.
In Task Manager, click the Startup tab. The programs you see in the Startup tab are the ones that launch every time Windows starts.
You can disable the ones you don't need. Just be careful to disable ones whose function you understand.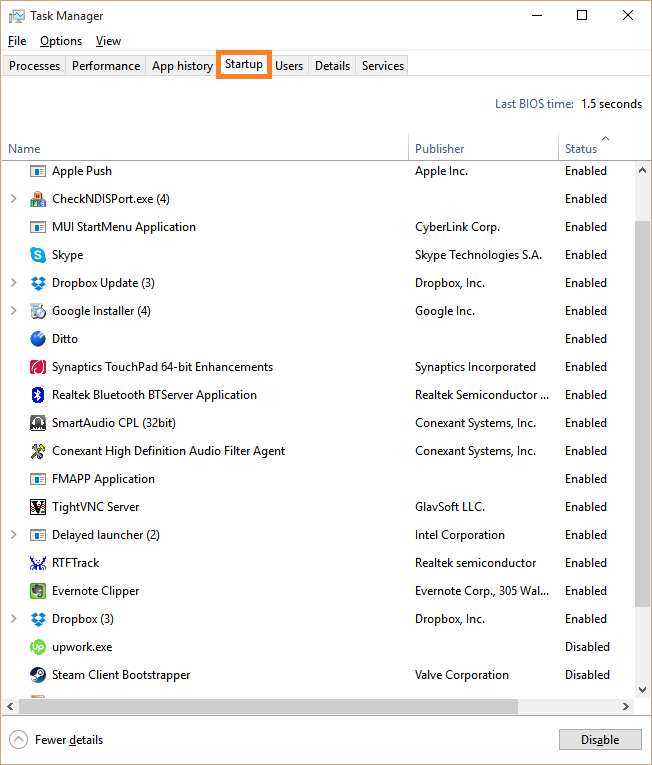 Malware and Virus
In today's world, viruses are a bit rare. This might be due to the fact that making computer virus is not lucrative. However, malware and spyware have grown exponentially.
Malware and Spyware programs usually don't prevent you from doing anything. They are designed to steal your information and sell it to shady people. Credit card numbers and Personal Information are their primary targets.
You can get rid of Malware by using Anti-Malware software. My favorite is Malwarebytes, but you can use any one you like.
Update Device Drivers
Updating old drivers can also increase performance. Device drivers act as a medium between Windows and your hardware. Manufacturers release improved versions of device drivers for performance upgrades, bug fixes, and for better compatibility with Windows.
You can upgrade device drivers by using DriverDoc. You can also do this manually by visiting the manufacturer's website.
Reinstall Windows
Probably, the easiest way to fix the speed problem through software is by reinstalling Windows. This works because Windows gets bloated with temp files and too many programs in the startup. Reinstalling Windows is a lot of work.
You not only need to copy important data but you also need to make sure that all your software programs are backed up as well. This needs to be done for each program. Although, you can try fixing Windows using WinThruster and hope that you won't need to reinstall Windows.
I Hope You Liked This Blog Article! If You Need Additional Support on This Issue Then Please Don't Hesitate To Contact Me On Facebook.
Image: via Flickr
Is Your PC Healthy?
I always recommend to my readers to regularly use a trusted registry cleaner and optimizer such as WinThruster or CCleaner. Many problems that you encounter can be attributed to a corrupt and bloated registry.
Happy Computing!


Wally's Answer Rating
Quick Solution (How fast can you do it?)
Easy Solution (How easy is it?)
Beginner-Friendly (Recommended for beginners?)
Summary: Every Windows Wally blog post is evaluated on these three criteria. The average of all three elements determines an "Overall Rating" for each blog post.