How To Fix The STATUS_IMAGE_CHECKSUM_MISMATCH Error
Reader Question:
"Hi Wally, Please help remove the error 0xc0000221 from windows 10. I started my computer after my vacation. It says that it is repairing something and then it restarts over and over again. I'm not sure what I should do with it. Please help. Thank You." – April Y., United Kingdom
Before addressing any computer issue, I always recommend scanning and repairing any underlying problems affecting your PC health and performance:
Step 1

: Download PC Repair & Optimizer Tool (WinThruster for Win 10, 8, 7, Vista, XP and 2000 – Microsoft Gold Certified).

Step 2

: Click "Start Scan" to find Windows registry issues that could be causing PC problems.

Step 3

: Click "Repair All" to fix all issues.
Setting up weekly (or daily) automatic scans will help prevent system problems and keep your PC running fast and trouble-free.
Wally's Answer: Hi April, The 0xc0000221 (or Status_Image_Checksum_Mismatch) error is usually caused by hardware issues. However, it can also be caused by a corrupt driver or DLL file.
If you've seen an error like this for the first time the don't worry. These things can happen to almost anyone. There's nothing to worry about. Please follow the instructions in this post and you should be up and running in no time.
Problem
The 0xc0000221 or STATUS_IMAGE_CHECKSUM_MISMATCH error appears when the user turns the computer on.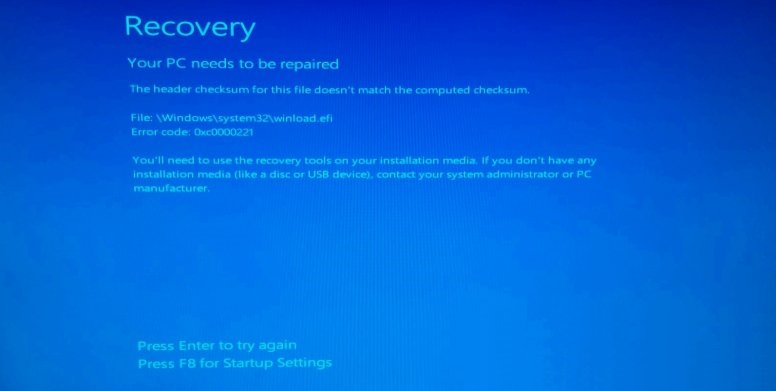 Cause
The 0xc0000221 or STATUS_IMAGE_CHECKSUM_MISMATCH error can be caused by a corrupt Driver issue, DLL file, or a hardware issue with either the computer's Hard Drive or RAM.
Solution
Here. I will suggest a few ways to fix this error going from the least to the most time-consuming ones in order. You are welcome to apply the fix you think will work best in your situation.
Corrupt Driver Issues Can Cause This Error
This is the most common reason for most blue screen errors. This only applies to you if Windows does start occasionally.
Please remember if you updated any device drivers recently. If something comes to mind then it is a safe bet that the previous driver update did your computer in. You can fix this by starting the computer in Safe Mode and updating all drivers.
You can do this by visiting your computer manufacturer's website and looking for your computer's model number. Once you find it, you can start downloading drivers and installing them on your computer. An easy way to do this is by installing a driver utility like. DriverDoc. It will only update specific drivers that need to be updated. Overall, it should save some time.
Hardware Issues Can Cause The Status_Image_Checksum_Mismatch Error
The most common reason for the 0xc0000221 or Status_Image_Checksum_Mismatch error is hardware issues, namely Hard Drive and RAM issues.
Here, we will look at how you can test the Hard Drive and RAM and find out if you need to replace anything.
Checking The Hard Drive for Damage
1. The Hard Drive can be tested by running a hardware diagnostic scan from your computer's BIOS/UEFI.
2. Another option is to use a bootable tool like Seagate SeaTools. Make sure to test the hard drive's S.M.A.R.T. log. If the hard drive doesn't pass this test then you'll have to replace it.
Both of these solutions should work if Windows won't boot anymore.
Checking The RAM for Damage
Checking the RAM is really simple. Simply make a bootable USB or CD of Memtest86. Boot your computer with this disk and test the RAM.
This is a long test and you may need to run it overnight.
If the RAM is faulty then you'll need to replace it. If you have more than one stick of RAM, then you'll need to run the test again, this time with one RAM and see if it passes the test.
If you're worried about getting this right then you are free to ask me any questions on our Facebook page here. Just drop me a message and I will personally assist you as soon as I can.
Again, If the RAM is faulty then replacing it should fix the problem. Faulty RAM can not usually be fixed.
However, you can try cleaning its teeth and plugging it back in to see if it starts working correctly again.
If No Hardware Issues Were Detected
First of all, make a bootable Windows installation disk by using Microsoft's Media Creation Tool for Windows 10 (8 and 7 are also available). Now, boot your computer with it and run the Automatic Startup Repair.
If that doesn't work then the problem might be the Windows installation. Since it won't start at all, your only option is to reinstall Windows. However, this doesn't mean that you need to lose all your data. You can perform what is called an "in-place upgrade" to reinstall Windows.
This involves installing Windows right where it was installed previously. The default location is C:\Windows
Perform an "in-place upgrade"
If you don't change the default location and install Windows then you should get an "in-place upgrade". This should preserve all your settings, files, and software.
You can make a Windows installation disk by using Microsoft's Media Creation Tool for Windows 10 (8 and 7 are also available).
I Hope You Liked This Blog Article! If You Need Additional Support to fix the Status_Image_Checksum_Mismatch Issue Then Please Don't Hesitate To Contact Me On Facebook.
Is Your PC Healthy?
I always recommend to my readers to regularly use a trusted registry cleaner and optimizer such as WinThruster or CCleaner. Many problems that you encounter can be attributed to a corrupt and bloated registry.
Happy Computing!


Wally's Answer Rating
Quick Solution (How fast can you do it?)
Easy Solution (How easy is it?)
Beginner-Friendly (Recommended for beginners?)
Summary: Every Windows Wally blog post is evaluated on these three criteria. The average of all three elements determines an "Overall Rating" for each blog post.