How To Fix The PFN_List_Corrupt Error
Reader Question:
"Hi Wally, I've tried doing a memory check and I've even tried uninstalling drivers. Safe mode is starting with no issues but when ever i try run windows normally it BSODs and gives me this error. PFN_List_Corrupt   0x0000004E. Please help me fix this!" - Manuel W., USA
Before addressing any computer issue, I always recommend scanning and repairing any underlying problems affecting your PC health and performance:
Step 1

: Download PC Repair & Optimizer Tool (WinThruster for Win 10, 8, 7, Vista, XP and 2000 – Microsoft Gold Certified).

Step 2

: Click "Start Scan" to find Windows registry issues that could be causing PC problems.

Step 3

: Click "Repair All" to fix all issues.
Setting up weekly (or daily) automatic scans will help prevent system problems and keep your PC running fast and trouble-free.
Wally's Answer: The PFN_List_Corrupt and other blue screen errors like this can occur when you least expect them. Many people think that their computer is broken when they see a blue screen error flash on their monitor, but its not that bad. In fact, once you are able to identify the error code, you should be able to find the solution and fix the problem.
Problem
The PFN_List_Corrupt or STOP 0x0000004E error appears on the screen and the computer restarts.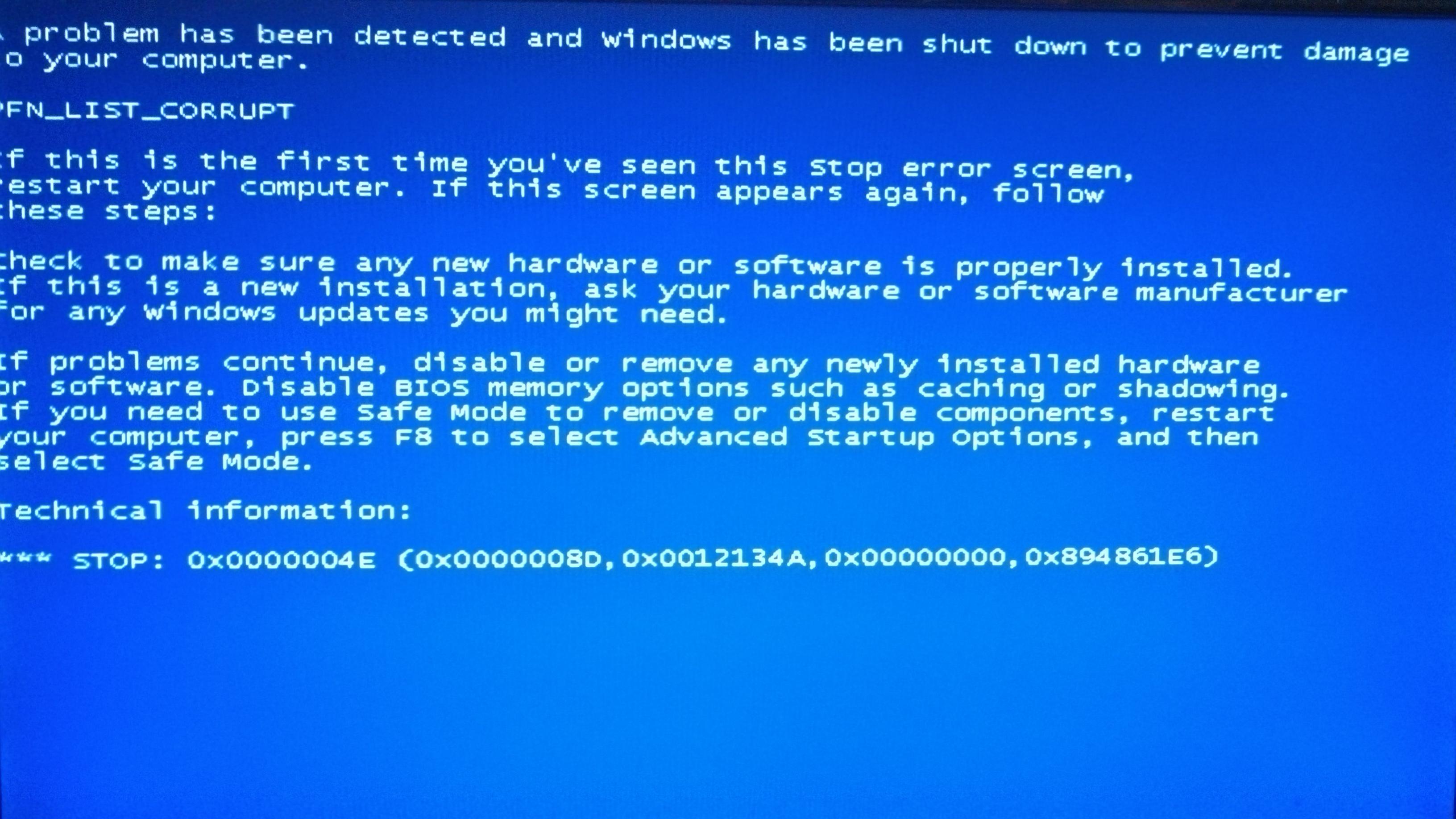 Cause
The PFN_List_Corrupt error usually appears when the "page frame number list" file is corrupt. This list contains physical locations of files on the hard disk. This blue screen error means that Windows encountered a problem with the PFN list and restarted the computer to prevent damage.
Solution
Here are some ways to fix the PFN_List_Corrupt error:
Use A Single Anti-Virus To Avoid Resource Conflicts
The PFN_List_Corrupt can result from two anti-virus programs trying to access the same physical space on the hard disk at the same time. Using Windows Defender together with another anti-virus program can cause these conflicts.
Update Device Drivers To Avoid The PFN_List_Corrupt Error
If anti-virus software was not the reason for the error then using outdated device drivers might have caused it. This is especially the case if you just started using a new device with the computer. It is better to update all drivers to be on the safe side.
You can download these drivers manually by going to the hardware vendor's website, locating the hardware, and downloading the driver.
Updating the BIOS driver may help stop this blue screen error. You can also update these drivers by using a driver utility like DriverDoc. This will help you save time and make the process easier, especially if this is the first time you have tried to update drivers for Windows.
Check The Computer For Hardware Issues
Hardware issues are different than software issues. Hardware cannot usually be fixed, and you will have to replace the hardware in question if this is the case.
Check The Hard Disk
Use CrystalDiskInfo to scan your hard disk. When the scan finishes, if you get a Red status, then replace the hard disk as soon as possible because it is damaged.
Check The RAM
Scan and check the RAM using the Windows Memory Diagnostic tool from within Windows by following these steps:
Press Windows Key + R > type mdsched.exe > press Enter
Follow the on-screen instructions to complete the scan.
In case the blue screen error prevents you from starting Windows, you can try starting Windows in safe mode and running the scans from there. This should also enable you to copy data and perform other troubleshooting tasks.
If Windows doesn't even start in safe mode then you can start these hardware scans from the BIOS of most computers. Just restart the computer and enter the BIOS to find the scan, or restart and look for prompts on the screen to scan the RAM and Hard disk.
I Hope You Liked This Blog Article! If You Need Additional Support on This Issue Then Please Don't Hesitate To Contact Me On Facebook.
Is Your PC Healthy?
I always recommend to my readers to regularly use a trusted registry cleaner and optimizer such as WinThruster or CCleaner. Many problems that you encounter can be attributed to a corrupt and bloated registry.
Happy Computing!


Wally's Answer Rating
Quick Solution (How fast can you do it?)
Easy Solution (How easy is it?)
Beginner-Friendly (Recommended for beginners?)
Summary: Every Windows Wally blog post is evaluated on these three criteria. The average of all three elements determines an "Overall Rating" for each blog post.