How to Fix the Internet Explorer download problem
Reader Question:
"Hi Wally, I can use my internet connection but when I try to downlad a file using Internet Explorer, it doesn't download"
- Sara D., Canada
Before addressing any computer issue, I always recommend scanning and repairing any underlying problems affecting your PC health and performance:
Step 1

: Download PC Repair & Optimizer Tool (WinThruster for Win 10, 8, 7, Vista, XP and 2000 – Microsoft Gold Certified).

Step 2

: Click "Start Scan" to find Windows registry issues that could be causing PC problems.

Step 3

: Click "Repair All" to fix all issues.
Setting up weekly (or daily) automatic scans will help prevent system problems and keep your PC running fast and trouble-free.
Wally's Answer: Usually download problems may be caused by a number of reasons such as the server that is hosting the files and the connections between your computer and the server. You will probably face a download problem if there is a problem with the server hosting the file you want. Although that may be the case, there are generally many reasons why internet explorer may be giving you problems.
Is my internet working fine?
First of all, you should know what internet connection you have. You probably have a cable, DSL (phone line), or Wireless internet. You can perform a speed test to see if your internet service is working as it should.
Repeat the speed test two or three times to get a general idea of what your internet speed is. If you are not sure, look at one of your internet receipts, or call your internet service provider to see what connection you have and if service is not as advertised you can ask them for help.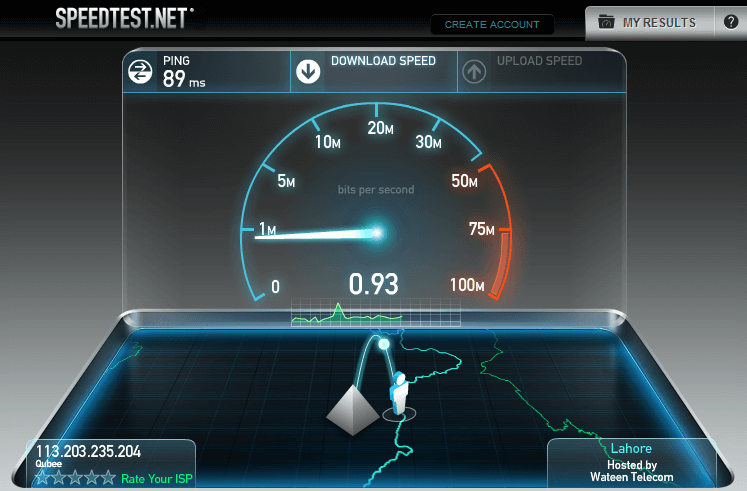 How is Internet speed measured?
Internet speed is measured in Kbps (Kilobytes Per Second), or Mbps (Megabits per second). There are 1024 kilobits in one megabit. When you are downloading a file from the internet, you may notice that the speed is given in KB/s (KiloBytes Per Second) instead of Kb/s (Kilobits Per Second). There are 8 bits in one byte.
So, if you have a 1Mbps internet connection then you should get an Internet Speed of 1Mb/s = 1024 Kbps / 8 = 128 KB/s (128 KiloBytes Per Second)
A 1Mbps internet connection should get 128 KB/s
A 2Mbps internet connection should get 256 KB/s
A 20Mbps internet connection should get 2560 KB/s or 2.5 MB/s
Install a Download manager
If your internet connection is fine then you can fix your download problem by installing a download manager. A download manager is absolutely essential if you download a lot of stuff, and even if you don't.
Install Internet Download Manager, Download Accelerator (DAP), Download Them All (Mozilla Firefox plugin), or any other download manager to manage your downloads. This is a must. If you have never used a download manager before, now is the time to start using one.
Some Tips that might fix the download problem
Close other programs that might use the internet or slow your computer down.
Make sure your computer's registry is optimized.
Download the files you need first and then start other downloads later.
Restart your modem if the Internet is "stuck".
Make sure that the connector cables are not damaged, and the end connectors are not dusty.
For maximum speed on one device, disconnect other devices from on the wifi or network.
Use a direct Ethernet wire connection instead of a wifi connection for increased speed.
Make sure your computer is not infected with spyware or viruses by using a good anti-spyware program.
Internet Explorer won't start Downloading files
If internet explorer simply won't download files, then it might be due to a damaged Internet Explorer index file. When this happens, the internet explorer does not download files normally as it should. However, you should still be able to transfer files over FTP just fine.
How to Fix this problem:
You could instead use something like WinThruster to delete temporary files that are causing this problem.
Delete the Internet Explorer Index.dat file to fix the Internet Explorer download problem
Open Internet Explorer,
Tools > Internet Options > General > Temporary Internet files > click Delete Files > OK
Under History > click Clear History > OK > Close Internet Explorer
Log into a user account that does not have this download problem with their Internet Explorer.
Use Windows_Key+R > type cmd > press Enter
Change the directory to the following path:
Assuming that Internet Explorer is installed in C:\ drive, and username is username
cd C:\Documents and Settings\username\Local Settings\Temporary Internet Files\Content.IE5
Type del index.dat, and then press Enter
Now restart your computer, the download problem should be fixed.
I Hope You Liked This Blog Article! If You Need Additional Support on This Issue Then Please Don't Hesitate To Contact Me On Facebook.
Is Your PC Healthy?
I always recommend to my readers to regularly use a trusted registry cleaner and optimizer such as WinThruster or CCleaner. Many problems that you encounter can be attributed to a corrupt and bloated registry.
Happy Computing!


Wally's Answer Rating
Quick Solution (How fast can you do it?)
Easy Solution (How easy is it?)
Beginner-Friendly (Recommended for beginners?)
Summary: Every Windows Wally blog post is evaluated on these three criteria. The average of all three elements determines an "Overall Rating" for each blog post.